Black Ice Software - April 10, 2014
Document Imaging SDK 12.52 is released!
Improved License Registration, Twain Scanning, New solution files and Reorganized Samples
Black Ice Software's Document Imaging SDK/ActiveX version 12.52 includes dozens of new improvements such as
Demo License Registration through HTTPS to make sure the communication is secured between the Customer's computer and Black Ice License Server
Proxy handling of the registration to give more opportunities to the System Administrators to manage the Document Imaging registration in a secured environment
New features for the Twain Scanning Samples to set up and keep the scanning dialog open
New solution files for Visual Studio 2012 and 2013
Reorganized samples and source files to make the folder structure more logical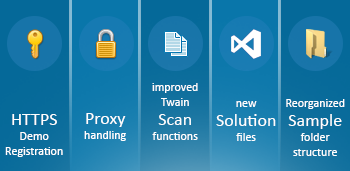 Also, the latest release of the Document Imaging SDK/ActiveX includes Improved zoom precision in BiDisp.dll, improved error detection in InsertTiffImage function and updated documentation.
The complete list of improvements in the latest Black Ice Document Imaging SDK/ActiveX 12.52 includes the following:
Changed demo license registration communication to HTTPS
Added Proxy handling in the demo license registration
Added Visual Studio 2012 solution and project file to samples
Added Visual Studio 2013 solution and project file to samples
Updated .Net samples from .Net 2.0 to .Net 4.0
Reorganized samples and solution files by Programming Language
Added solution file shortcuts to Start menu
Removed J# samples
Stability improvement in BiTwain.dll and BiTwain.ocx
Updated twaindsm.dll to version 2.3
Added new functions to BiTwain.dll and BiTwain.ocx:

GetKeepTwainScanDialogOpen
SetKeepTwainScanDialogOpen

Added SetKeepTwainScanDialogOpen feature to the Twain samples (C++,C#,VB.NET)
Improved zoom precision in BiDisp.dll
Improved error detection in InsertTiffImage function
Stability improvement in GetOCRLanguages when no language file found
Updated manuals
Free Upgrades and Priority Support
Don't forget to subscribe to future releases by purchasing maintenance. With an active maintenance subscription, you will receive all new releases of your software for free with your subscription! Also included with your Subscription is Priority email technical support. For more information call us at +1 (603) 882-7711 Extension 2, or sales@blackice.com.

As a special offer, if your Maintenance Subscription has expired or you did not include the Maintenance Subscription with your original purchase, simply mention this newsletter to renew or add Maintenance retroactively!