Black Ice Software - April 8, 2015
Document Imaging SDK/ActiveX 12.53 is released!
Added Paste (Ctrl+V) capability for Note and Text annotations, Improvements for the OCR and for the installation!
Black Ice Software has released version 12.53 of the Document Imaging SDK/ActiveX, including new capabilities to Paste (Ctrl+V) text from the clipboard into Note and Text annotations. The new Paste capability is included in every sample application in the latest release of the Document Imaging SDK.
The latest release of the Document Imaging SDK/ActiveX version 12.53 includes major stability improvements for OCR (Optical Character Recognition) for the better GDI object leak handling, and also includes improvements in the installation for the more accurate detection if a reboot is pending on the system.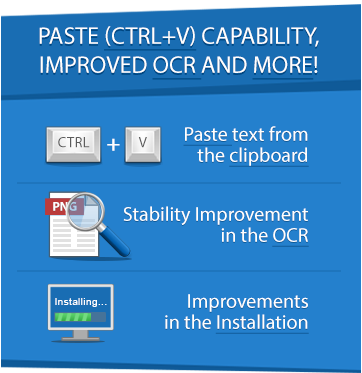 Version 12.53 of the Document Imaging SDK/ActiveX includes improvements in the BiPDF.dll to be able to read the original compression of PDF documents, minor improvements on the user interface and updated documentation.
The complete list of improvements in the latest Black Ice Printer Driver include the following:
Stability improvement for the Demo DLLs
Added Paste (Ctrl+V) handling to Note and Text annotations
Improvements in the installation for detecting pending reboot on the system
Added CCreatePDF::LoadImageAndInfoFromPDF function to BiPDF.dll
Fixed title text in load annotation dialog
Stability improvement for BiOCR
Updated manuals
Free Upgrades and Priority Support
Do not forget to subscribe to future releases by purchasing maintenance. With an active maintenance subscription, you will receive all new releases for free! Priority email technical support is also included in your subscription. For more information call us at +1 (603) 882-7711 Extension 2, or sales@blackice.com.

As a special offer, if your maintenance subscription has expired or you did not include the maintenance subscription in your original purchase, simply refer to this newsletter to renew or add maintenance retroactively!