Black Ice Software - April 6, 2017
Print2RDP version 6.20 is released!
Added Simultaneous printing and the ability to create separate printers for each client printer!
Black Ice Software has released version 6.20 of the Print2RDP. This version includes a new improvement to create and use a separate port for every attached printer. This new feature creates and shows a separate printer for each and every client printer, allowing the users to print documents simultaneously in parallel!
The new simultaneous printing can drastically increase printing speed, especially if the server has numerous users remotely logged who are utilizing Print2RDP printers.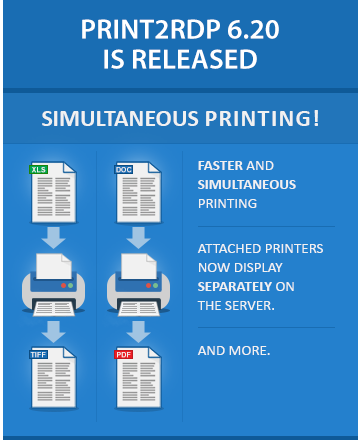 Also included in the most recent release; Print2RDP version 6.20 prevents Windows from grouping the printers together. The attached printers are displayed separately on the Server under the Devices and Printers helping prevent any confusion for the end users.
The complete list of improvements in the latest Print2RDP includes the following:
Print2RDP now uses a separate port for each printer
Parallel printing
Prevent Windows from grouping the printers together
Updated manual
Free Upgrades and Priority Support
Do not forget to subscribe to future releases by purchasing maintenance. With an active maintenance subscription, you will receive all new releases for free! Priority email technical support is also included in your subscription. For more information, call us at +1 (561)-757-4107 Extension 3, or impactsales@blackice.com.

As a special offer, if your maintenance subscription has expired or you did not include the maintenance subscription in your original purchase, simply refer to this newsletter to renew or add maintenance retroactively!