Black Ice Software - March 28, 2017
Try Printer Driver 14.85 with a new MSI Installer for large scale deployment!
The New InstallShield based MSI installer is perfect for secure environments without .NET framework!
The latest ColorPlus, PDF and TIFF/Monochrome Printer Driver is now available in the form of a InstallShield MSI installer. The new InstallShield MSI installer does not require .NET framework to be installed on the computers, bypassing the security vulnerabilities of the .NET framework.
The new InstallShield MSI installer is the perfect solution for secure environments greatly simplifying large scale deployment and allowing pre-configuration of the Printer Driver for the users.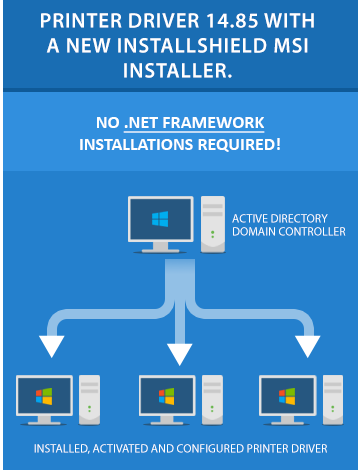 A Few key InstallShield MSI features:
No .NET framework requirements


Add a Custom Printer Name to re-brand the Black Ice Printer Driver!


Pre-configure the printer driver using the INI file, such as file format, output directory, and more. Every feature of the printer driver can be pre-configured.


Add Agent (Task printers) printers. Configure a single or multiple Agent printer for reoccurring or specific tasks.


Email configuration of email provider, SMTP setting, User name, Password, Recipients, Subject, Email Body and Silent Email sending.


SharePoint Upload configuration of login information, upload directory, HTTPS connection and silent uploading.


FTP upload configuration of login information, SSL configuration, destination directory, proxy settings and more.


Profile Configuration to use a specific document conversion profile with the printer driver.


Automatic silent demo registration, and full version activation during the install
For the InstallShield MSI installer availability, please contact sales@blackice.com.
Free Upgrades and Priority Support
Do not forget to subscribe to future releases by purchasing maintenance. With an active maintenance subscription, you will receive all new releases for free! Priority email technical support is also included in your subscription. For more information call us at +1 (561) 757-4107 Extension 2, or email us at sales@blackice.com.

As a special offer, if your maintenance subscription has expired or you did not include the maintenance subscription in your original purchase, simply refer to this newsletter to renew or add maintenance retroactively!