Black Ice Software - March 15, 2017
Printer Driver 14.83 with a redesigned Printer Manager is here!
Try the completely redesigned Printer Manager with new features for Administrators!
Black Ice Software has released the Printer Driver version 14.83. This version comes with a new modern Printer Manager with a user-friendly interface to enhance the user's experience!
The new Printer Manager also includes new features for Administrators to deny or permit access to specific Printer Manager tabs for All Users on the computer. This new feature is beneficial to Administrators that need to restrict Printer Manager settings and features for their users.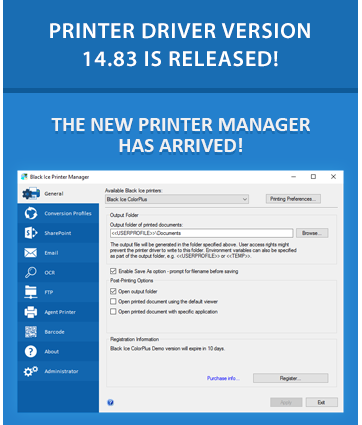 To help speed up troubleshooting the new Printer Manager also includes new features such as configuring the Event Viewer logging and Debug logging for All Users on the computer.
The new Printer Manager is included in the Licensed "End-User" ColorPlus, PDF, TIFF/Monochrome, X1 Printer Drivers, and also included in the MSI installers for large scale deployments.
The complete list of improvements in the latest Printer Driver include the following:
New Printer Manager user interface
Updated PDF Dlls to version 2.8.3.677
Fix for lines and brushes when printing certain documents from SAP
Updated manuals
Free Upgrades and Priority Support
Do not forget to subscribe to future releases by purchasing maintenance. With an active maintenance subscription, you will receive all new releases for free! Priority email technical support is also included in your subscription. For more information call us at +1 (561) 757-4107 Extension 2, or email us at sales@blackice.com.

As a special offer, if your maintenance subscription has expired or you did not include the maintenance subscription in your original purchase, simply refer to this newsletter to renew or add maintenance retroactively!