Black Ice Software - March 12, 2015
Tiff Viewer version 11.22 is released!
Multi-page rotation feature and improved file association during the installation for TIF, TIFF, FAX documents!
Black Ice Software has released version 11.22 of the Tiff Viewer including a new multi-page rotation feature, to allow users to select and rotate multiple pages in a document easily.
Version 11.22 of the TIFF Viewer Server includes improved installation to let Administrators and System integrators set Tiff Viewer as the default software to open TIF, TIFF, FAX documents. Also, the latest release of the Tiff Viewer includes a logging feature during the installation, to let Administrators and System Integrators troubleshoot the occurring installation issues.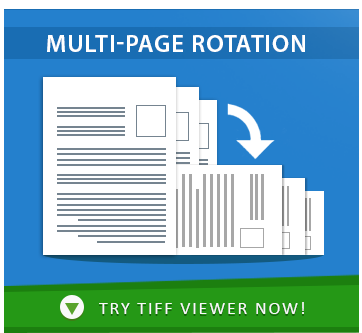 The latest release of the Tiff Viewer includes minor improvements on the user interface, to enhance usability and user experience.
The complete list of improvements in the latest Tiff Viewer include the following:
Set Tiff Viewer as default application for TIF, TIFF, FAX after installation
Added logging to Tiff Viewer installer
Added multi-page rotation feature for TIFF image format
Renamed Pencil annotation to Freehand
Free Upgrades and Priority Support
Do not forget to subscribe to future releases by purchasing maintenance. With an active maintenance subscription, you will receive all new releases for free with your subscription! Priority email technical support is also included in your subscription. For more information, call us at +1 (603) 882-7711 Extension 3, or impactsales@blackice.com.

As a special offer, if your Maintenance Subscription has expired or you did not include the Maintenance Subscription in your original purchase, simply refer to this newsletter to renew or add Maintenance retroactively!