Black Ice Software - February 28, 2017
Print2RDP version 6.18 is released!
Never worry about having to log off again to Add printers with the latest version of Print2RDP!
Black Ice Software has released the Print2RDP version 6.18. This version includes major improvements to Print2RDP, allowing users to Add printer without ever having to logging off from the remote computer.
In the latest release users only have to disconnect the session (close the RDP window) and connect again (reopen the RDP session) to quickly and easily Add printers to their session.
This new feature significantly improves the user-friendliness of Print2RDP and makes adding printers to your session easier then ever before.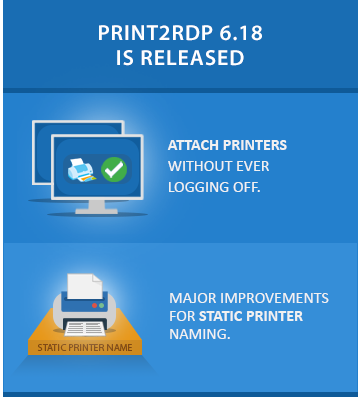 Additionally, the new Print2RDP Client comes with major user interface improvements to make the static printer naming feature more obvious and to help users utilize the static printer naming feature.
Furthermore, the new Print2RDP supports mounting printers with Ericom Blaze Client, which is a common alternative for Microsoft Remote Desktop Connection.
The complete list of improvements in the latest Print2RDP includes the following:
Upgraded build process for the drivers and installers
Updated eLicense.dll to version 5.10.193
Print2RDP now attaches printers even when connecting to an existing session without logging out and logging back in
Upgraded the Print2RDP Client MSI installers from .NET Framework version 2.0 to 4.0
Stability improvement for the "Enable Printing Preferences Dialog" client feature
Removed update feature from installers
Improvements on the Print2RDP Client user interface
Stability and performance improvements for attaching printers through a Citrix connection
Stability improvements for forwarding paper sizes when attaching printers through a Citrix connection
Updated manual
Free Upgrades and Priority Support
Do not forget to subscribe to future releases by purchasing maintenance. With an active maintenance subscription, you will receive all new releases for free! Priority email technical support is also included in your subscription. For more information, call us at +1 (561)-757-4107 Extension 3, or impactsales@blackice.com.

As a special offer, if your maintenance subscription has expired or you did not include the maintenance subscription in your original purchase, simply refer to this newsletter to renew or add maintenance retroactively!