Black Ice Software - February 24, 2016
Auto-print SDK version 14.54 is released!
Added support for printing Emails (MSG and EML) files and added support to print EMF files!
Black Ice Software has released the Auto-print SDK version 14.54 including support for printing MSG and EML Email files, exported from Microsoft Outlook. The new email printing support can print all supported attachments in emails, including PDF documents, Images, Microsoft Office documents and more!
The new email printing can be used to easily and quickly archive your emails, or to effectively export the attachments from every email!
The Auto-print SDK 14.54 also includes support for printing EMF documents and also includes stability improvements for printing PDF documents, and very large JPEG images.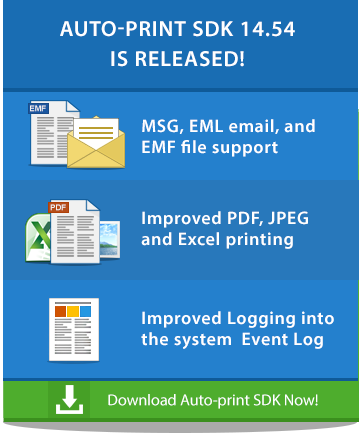 The Auto-print SDK 14.54 includes improved detection of Microsoft Excel spreadsheets, resulting in more reliable detection to filter out damaged and corrupt Excel spreadsheets.
The new Auto-print SDK includes improved logging into the systems Event Log and synchronization for printing Office documents with Auto-print services for a more reliable printing.
The complete list of improvements in the latest Black Ice Auto-print SDK include the following:
Added EMF input file support
Added Email (MSG and EML) input file support
Changed the prebuilt samples to use .NET Framework 4.0
Added version number for Auto-print .NET samples
Stability improvement for Auto-print Service C# Sample if the sample cannot find Black Ice printer
Added feature for Auto-print Service C# Sample to log into the Event Viewer if the service could not be started
Improved handling of non-existing printers in BIAPStartPrintingEx and BIAPStartPrinting functions
Added synchronization when starting Office in Service (this is not the final solution)
Stability improvement for BIAPStartPrinting function
Stability improvement for converting PDF documents
Stability improvement for converting large JPEG images
Improved Excel document detection if the file is corrupt or the extension is incorrect
Updated BlackIceDEVMODE.dll and BIAPMSG.dll to version 14.54.1402
Updated Image Dlls to version 12.56.527
Updated BiAutoPDF.dll to version 2.6.3.637
Updated manuals
Free Upgrades and Priority Support
Do not forget to subscribe to future releases by purchasing maintenance. With an active maintenance subscription, you will receive all new releases for free! Priority email technical support is also included in your subscription. For more information call us at +1 (561) 757-4107 Extension 2, or email us at sales@blackice.com.

As a special offer, if your maintenance subscription has expired or you did not include the maintenance subscription in your original purchase, simply refer to this newsletter to renew or add maintenance retroactively!