Black Ice Software - February 23, 2016
Printer Driver version 14.54 is released!
Document conversion logging in Windows Event Log
Black Ice Software has released the Printer Driver version 14.54 with the new feature to log the document conversion in the Windows Event Log for Auditing. The Event Logging is configurable to:
Write details about the printing process on the system. User name , IP address, document name, warnings errors, into the event log
Write errors and warnings into the event log (default)
Write only errors into the event log
Disable Event logging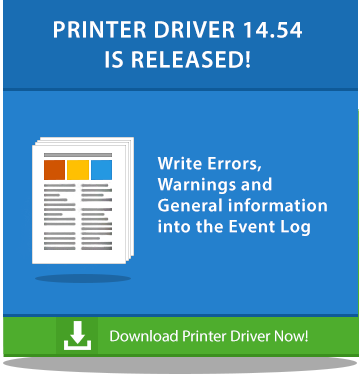 The Windows Event Logging feature can be configured by modifying the Event Logging Level under the Troubleshooting Settings in the Printer Driver INI files. For more information about how to configure the new Event Logging feature, please refer to our website.
The complete list of improvements in the latest Black Ice Printer Driver include the following:
Added document conversion process logging and Auditing to Windows Event Log
Updated PDF Dlls to version 2.7.1.640
Updated manuals
Free Upgrades and Priority Support
Do not forget to subscribe to future releases by purchasing maintenance. With an active maintenance subscription, you will receive all new releases for free! Priority email technical support is also included in your subscription. For more information call us at +1 (561) 757-4107 Extension 2, or email us at sales@blackice.com.

As a special offer, if your maintenance subscription has expired or you did not include the maintenance subscription in your original purchase, simply refer to this newsletter to renew or add maintenance retroactively!