Black Ice Software - February 9, 2017
Printer Driver 14.81 is released!
Emphasis on the OEM Printer Driver for Developers.
New Multi-driver MSI Installation samples, New InstallShield MSI samples, and new WIX Install samples!
Black Ice Software has released the Printer Driver version 14.81. This version focuses on Printer Driver API/Resource Toolkit with major improvements for the installation samples for developers.
The new version includes new InstallShield MSI installation samples, allowing developers to write custom installations without Microsoft .NET requirements.
Developers can install multiple instances of printers effortlessly with the latest release of the Printer Driver API/Resource Toolkit, which includes new multi-driver installation capabilities for the MSI install samples.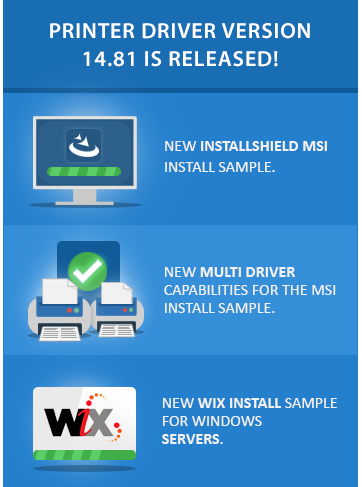 Version 14.81 of the Printer Driver API/Resource Toolkit comes with a new server version of WIX installation samples, and improvements in the source code, to help developers building their own customized install.
By using our new improved MSI installation samples with advanced features, one can easily create custom installations, install multi-printers, configure the Printer Drivers through a customized INI file, and more! For Printer Driver API/Resource toolkit availability, please contact sales@blackice.com.
The complete list of improvements in the latest Printer Driver include the following:
Minor user interface improvement in the MSI installers
Updated OCR dlls to version 12.57.559
Improved OCR accuracy
Stability improvement for empty print jobs (E.g.: Printing empty page from Notepad)
Minor user interface improvements
Improvements in the Installation samples in the API/Resource Toolkit
Added server version of WIX installation samples
Added comments to WIX installation samples
Changed product code of WIX install samples
Added multi driver feature for MSI install samples
Added InstallShield MSI install samples
Updated manuals
Free Upgrades and Priority Support
Do not forget to subscribe to future releases by purchasing maintenance. With an active maintenance subscription, you will receive all new releases for free! Priority email technical support is also included in your subscription. For more information call us at +1 (561) 757-4107 Extension 2, or email us at sales@blackice.com.

As a special offer, if your maintenance subscription has expired or you did not include the maintenance subscription in your original purchase, simply refer to this newsletter to renew or add maintenance retroactively!