Black Ice Software - February 9, 2016
Printer Driver version 14.53 is released!
HIPAA compliant PDF printing to protect health information, First page Annotation-Header-Footer and more!
Black Ice Software has released the Printer Driver version 14.53 to create HIPAA compliant encrypted PDF documents in memory, for meeting the world's most stringent security and privacy regulations. This results in HIPAA compliant printing for medical applications to protect health information and prevent the access of PDF documents by unauthorized person.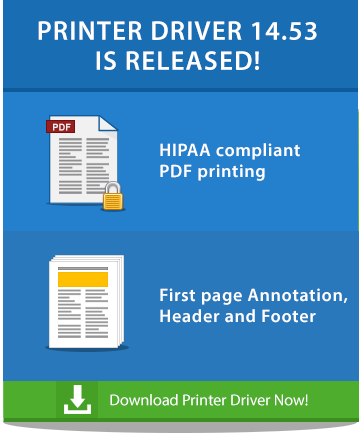 The new version of Black Ice Printer Driver also, includes major stability improvements for printing certain Unicode or Mathematical characters to PDF file format. Printer Driver version 14.53 also includes new features to place Annotation, Header and Footer onto the first page only, allowing users to add covers for the printed documents.
The complete list of improvements in the latest Black Ice Printer Driver include the following:
HIPAA compliant PDF printing
Added support for printing PDF files to memory
Added Add annotation to the first page only feature
Added Add header to the first page only feature
Added Add footer to the first page only feature
Stability Improvement for uninstalling Printer driver
Stability improvement in the licensed MSI installers for detecting already installed X1 printer drivers
Set disable group file option in installed parallel drivers
Stability Improvement for detecting shared printer driver
Minor improvements for installer user interface
Updated PDF Dlls to version 2.7.0.639
Improvements in font handling (UFI Mapping)
Improvements in handling text inside paths
Improved accuracy of coordinates in the Text Output when the "Save text position and style" option is used
Added INI file option for better compatibility with certain applications printing in anisotropic resolutions (E.g.: 600x300 DPI)
Updated manuals
Free Upgrades and Priority Support
Do not forget to subscribe to future releases by purchasing maintenance. With an active maintenance subscription, you will receive all new releases for free! Priority email technical support is also included in your subscription. For more information call us at +1 (561) 757-4107 Extension 2, or email us at sales@blackice.com.

As a special offer, if your maintenance subscription has expired or you did not include the maintenance subscription in your original purchase, simply refer to this newsletter to renew or add maintenance retroactively!