Black Ice Software - February 4, 2015
Printer Driver 14.25 is released with Multi-printer Installation!
Turning the computer into a High Volume document converter!
Black Ice Software has released the Printer Driver 14.25 including new capabilities to install multiple numbers of printers on the same computer creating a high volume document converter. Multiple instances of printers that are printing documents simultaneously results in a much faster and reliable document converter solution.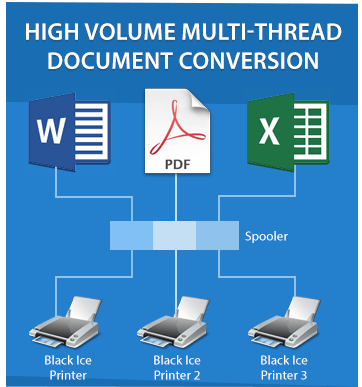 Version 14.25 of the Black Ice Printer Driver includes stability improvements in the product registration and improvements in the Photo Quality Intensity which results much better visibility on poorly scanned documents.
The complete list of improvements in the latest Black Ice Printer Driver include the following:
Font optimization, and Embedded font optimization for Faster output generation.
User interface improvement for the Watermark Brightness option
Stability improvement in the Printer Manager for old printer drivers without OCR
Updated PDF Dlls to version 2.6.2.618
Added multi printer install option to TIFF/Monochrome printer driver installer
Added multi printer install option to ColorPlus printer driver installer
Updated eLicense.dll to 4.04.135

Fixed product registration problem (improvement for unique ID detection)
Fixed potential deadlock in License Checking

Changed default Photo Quality Intensity to 70
Updated manuals
Free Upgrades and Priority Support
Do not forget to subscribe to future releases by purchasing maintenance. With an active maintenance subscription, you will receive all new releases for free! Priority email technical support is also included in your subscription. For more information call us at +1 (603) 882-7711 Extension 2, or sales@blackice.com.

As a special offer, if your maintenance subscription has expired or you did not include the maintenance subscription in your original purchase, simply refer to this newsletter to renew or add maintenance retroactively!