Black Ice Software - February 1, 2017
Printer Driver 14.80 is released!
Added Support for Windows Server 2016, Improved OCR Printing, Custom Filename Generation and more!
Black Ice Software has released the Printer Driver version 14.80. The new version includes support for Windows Server 2016 operating systems.
Version 14.80 of the Printer Driver includes a newly improved Optical Character Recognition (OCR), providing more accurate and efficient conversion of typewritten or printed text into editable text files.
The latest release of Black Ice Printer Drivers includes further improvements for printing to Editable XML file format, and for printing from the BarTender application.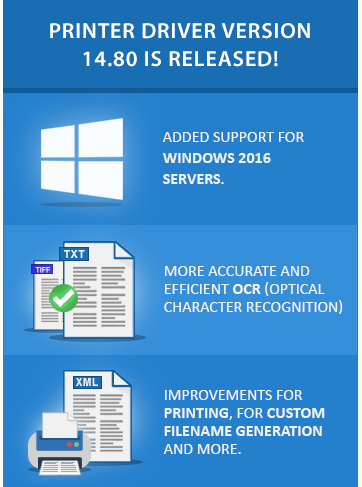 Version 14.80 of the Black Ice Printer Drivers includes improvements for the Custom Filename Generation feature of the Printer Driver, and updated manuals to enhance user's experience.
The complete list of improvements in the latest Printer Driver include the following:
Upgraded build process for the drivers and installers
Updated PDF Dlls to version 2.8.2.675
Stability improvements for printing to Editable XML file format
Updated eLicense.dll to version 5.10.193
Updated Document Imaging DLLs to version 12.08.30
Supporting Windows Server 2016
Improvements for printing from BarTender application
Improvements for OCR (Optical Character Recognition)
Stability improvement for resuming paused print jobs
Stability improvements for using dot in Custom Filename Generation
Updated Manuals
Free Upgrades and Priority Support
Do not forget to subscribe to future releases by purchasing maintenance. With an active maintenance subscription, you will receive all new releases for free! Priority email technical support is also included in your subscription. For more information call us at +1 (561) 757-4107 Extension 2, or email us at sales@blackice.com.

As a special offer, if your maintenance subscription has expired or you did not include the maintenance subscription in your original purchase, simply refer to this newsletter to renew or add maintenance retroactively!