Black Ice Software - January 27, 2016
Tiff Viewer version 11.39 is released!
New feature to add Note annotations to TIFF documents!
Black Ice Software has released version 11.39 of the Tiff Viewer. This version includes completely rewritten Note annotations onto TIFF documents. The earlier "Note" feature has been renamed to "Text Note". The Note will be displayed with a small note icon. Once the user clicks on the icon, the note editor appears where the user can enter text notes or reminder.
The new Note annotations has a much easier user interface and enable users to add User specific comments or store important information about the document or the page. The note icons remains in the same position, even if the user is scrolling or paging in the document and does not overlap valuable information on the document. Read more about TIFF Viewer...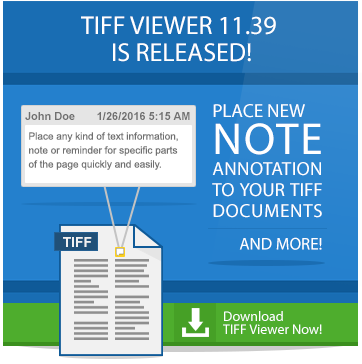 Version 11.39 of the Tiff Viewer includes reduced loading time of TIFF images from network location, reduced closing time TIFF Viewer, and updated manuals to enhance the user's experience.
The complete list of improvements in the latest Tiff Viewer include the following:
Added Note annotation type
Reduced closing time of TIFF Viewer
Reduced loading time time of TIFF images from Network locatin
Updated BiAnno.dll and BiAnnoDlg.dll to version 12.56.525
Updated manuals
Free Upgrades and Priority Support
Do not forget to subscribe to future releases by purchasing maintenance. With an active maintenance subscription, you will receive all new releases for free with your subscription! Priority email technical support is also included in your subscription. For more information, call us at +1 (561) 757-4107 Extension 2, or impactsales@blackice.com.

As a special offer, if your Maintenance Subscription has expired or you did not include the Maintenance Subscription in your original purchase, simply refer to this newsletter to renew or add Maintenance retroactively!