Black Ice Software - January 26, 2016
Print2RDP version 6.13 is released!
Improved Print2RDP client to select printers during the installation, including stability improvements and more!
Black Ice Software has released version 6.13 of the Print2RDP. This version includes Printers selection during MSI installation and Manual installation. This new feature enables system administrators to deploy Print2RDP client for users, by preselecting either the default printer or every printer of the user to be mounted (attached) on the server when the user logs into an RDP or Citrix session on the server. Users no longer need to add printers manually.
The Print2RDP version 6.13 includes stability improvements for Citrix connections for certain printers with large DEVMODE structures, and also includes stability improvements for RDP connections.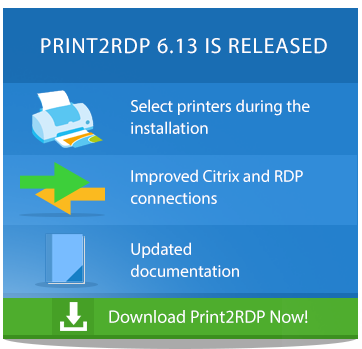 Version 6.13 of the Print2RDP includes minor improvements in the installer, and updated documentation to enhance the user's experience.
The complete list of improvements in the latest Print2RDP include the following:
New Add printer(s) feature for the manual installer of the Print2RDP client
New Add printer(s) with MSI installer for the Print2RDP client.
Stability improvement for Citrix connections for certain printers with large DEVMODE structures (error 122)
Stability improvement for RDP connections
Stability improvement for Desktop shortcut for Print2RDP client
Updated manual
Free Upgrades and Priority Support
Do not forget to subscribe to future releases by purchasing maintenance. With an active maintenance subscription, you will receive all new releases for free with your subscription! Priority email technical support is also included in your subscription. For more information, call us at +1 (561) 757-4107 Extension 2, or impactsales@blackice.com.

As a special offer, if your Maintenance Subscription has expired or you did not include the Maintenance Subscription in your original purchase, simply refer to this newsletter to renew or add Maintenance retroactively!