Document Viewer for Terminal Server users
Faxproducts.com - January 25, 2011
NEW! Email documents with Tiff Viewer v8.40
Black Ice Software® announces the release of version 8.40 of the Tiff Viewer & Browser Plug-In and Tiff Viewer Server application. This latest version of Tiff Viewer is capable of sending the TIFF document as an email attachment right from the Tiff Viewer or the Browser Plug-In user interface.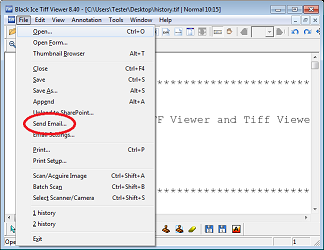 Tiff Viewer can send the viewed document
attached to an email message
The new Tiff Viewer email feature can be configured to use either the default mail client (e.g. Outlook or Thunderbird) or a custom SMTP server for sending messages. SMTP connection and SSL encryption can be specified as well. Emails can be sent silently in the background to predefined recipients. When emails are sent silently, log files can come in handy to check the status of sent messages or error messages.
***MSI installer is available for large scale deployments***
Email Sending from the Browser Plug-in
The new email sending feature is also available in the Browser Plug-In.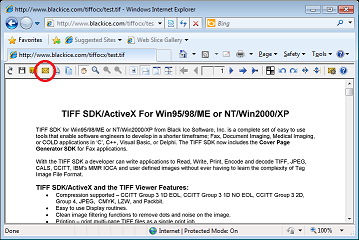 Send Email feature is also available from the Browser Plug-In
This newly added email feature of the Tiff Viewer Browser Plug-In will streamline user experience, since it will allow emailing of TIFF document directly from the browser plug-in.
Mozilla Firefox and Google Chrome users can also email TIFF documents directly from the browser. See how Firefox an Chrome can be configured to use the Tiff Viewer Browser Plug-in.
Document Viewer for Terminal Server users
Terminal Server users can also use Tiff Viewer as a Document Viewer. Tiff Viewer Server is designed especially for Terminal Server environments. Terminal Server users can view, print, email and annotate any TIFF image, or to open and view TIFF files through the standalone user interface or with the browser plug-in.
Tiff Viewer Server supports all Windows Server operating systems and Citrix on both 32 and 64 bit platforms.
Free Upgrades and Priority Support
Don't forget to subscribe to future releases by purchasing maintenance. With the yearly maintenance subscription, you will receive all new releases of your software for free! Also included is Priority email technical support. For more information call us at (603) 882-7711 Extension 3, or impactsales@blackice.com. As a special offer, if your Maintenance Subscription has expired or you did not include it with your original purchase, simply mention this newsletter to renew or add Maintenance retroactively!