Black Ice Software - January 20, 2016
Document Converter version 1.06 is released!
New Email Notification feature, faster conversion to TIFF, improved redirect printing and more!
Black Ice Software has released the Document Converter version 1.06. This version includes a new Email Notification feature to send emails if the document conversion has completed, or the Document Converter service has stopped.
The new Email Notification feature can send emails to the specified recipients about conversion errors, when the conversion finished successfully or to alert users and administrators to review the conversion results during the conversion process.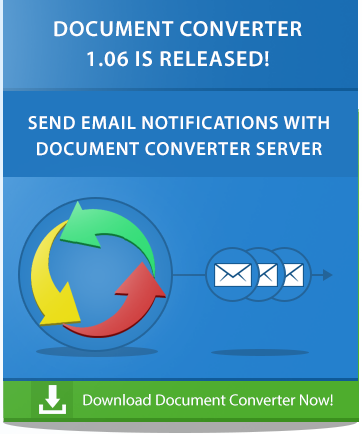 The new Document Converter also includes significant improvements in performance for printing multipage documents to TIFF file formats. A 70,000 page document now converts to TIFF in only 7 hours.
Previous version used to take over 48 hours to convert, while the output quality remains the same! A 6000 page PDF file is converted to TIFF in 30 minutes, previous version used to take over 1 hour and 45 minutes.
The printing speed improvement does not affect printing single page documents to TIFF file formats.
The complete list of improvements in the latest Document Converter includes the following:
Added Email Notification feature
Stability improvements for processing documents from Monitored Directory
Improved performance printing multi-page documents to TIFF formats
Increase the TIFF output files size from 2GB to up to 4GB
Updated Document Imaging DLLs to version 12.07.26
Stability improvement for appending multiple pages to a TIFF file
Removed the Internet Explorer checking from "End-User" Licensed printer drivers
Updated manuals
Free Upgrades and Priority Support
Do not forget to subscribe to future releases by purchasing maintenance. With an active maintenance subscription, you will receive all new releases for free! Priority email technical support is also included in your subscription. For more information, call us at +1 (561)-757-4107 Extension 3, or impactsales@blackice.com.

As a special offer, if your maintenance subscription has expired or you did not include the maintenance subscription in your original purchase, simply refer to this newsletter to renew or add maintenance retroactively!