Black Ice Software - January 24, 2017
Tiff Viewer version 11.54 is released!
Improved Optical Character Recognition and added Twain data source selection for older scanners
Black Ice Software has released version 11.54 of the Tiff Viewer. This version includes a newly improved Optical Character Recognition (OCR), providing more accurate and efficient conversion of typewritten or printed text into editable text files.
OCR is widely used as a form of digital document processing for documents, sales receipts, mail, or any kind of scanned documents.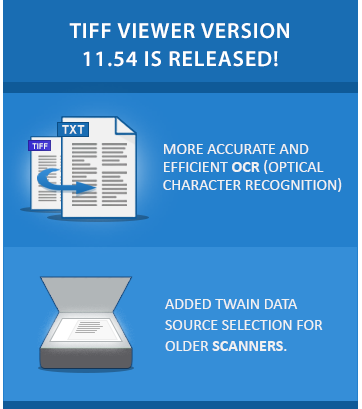 The latest Tiff Viewer comes with an improved user interface allowing Users to quickly select the TWAIN data source version. This will improve compatibility with older scanner devices using Twain DSM version 1.9 or earlier lowing the number of errors that may occur when scanning.
The complete list of improvements in the latest TIFF Viewer include the following:
Updated Installers
Added option to change between Twain 1.9 or older and Twain 2.0 or newer data source manager
Updated BiOCR.dll to version 12.57.552
Improved OCR accuracy
Updated manuals
Free Upgrades and Priority Support
Do not forget to subscribe to future releases by purchasing maintenance. With an active maintenance subscription, you will receive all new releases for free with your subscription! Priority email technical support is also included in your subscription. For more information, call us at +1 (561) 757-4107 Extension 2, or impactsales@blackice.com.

As a special offer, if your Maintenance Subscription has expired or you did not include the Maintenance Subscription in your original purchase, simply refer to this newsletter to renew or add Maintenance retroactively!