Black Ice Software - January 20, 2015
Printer Driver 14.19 is released!
Significant improvements in the installations, Start Application Feature, Message Interface and Auto-print Samples!
Black Ice Software has released the Printer Driver 14.19 including improvements to the installation and uninstallation, especially when an older version of the Black Ice Printer Driver was installed on the system.
Version 14.19 of the Black Ice Printer Driver includes stability improvements for the Generate output in memory option, for the Start Application feature with Start Before Printing and Start After Printing option, when using the Document Name, Group Filename and Output Filename parameters.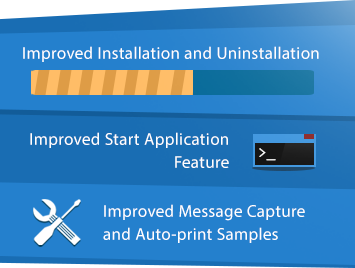 The latest release of the Black Ice Printer Driver API/Resource Toolkit includes, major improvements in the Auto-print samples. The new Auto-print samples also include improved printable area detection, capability to configure the printing timeout, password protection detection and improvements when printing PDF documents with embedded JavaScript.
Version 14.19 of the Black Ice Printer Driver API/Resource Toolkit also includes, improved Message Interface for printer driver and Message Capture samples with Abort messages. The Abort message appears if the printing was interrupted to help Developers and Administrators to track the document conversion.
The complete list of improvements in the latest Black Ice Printer Driver and API/Resource Toolkit include the following:
Improvements for the InstallShield and MSI Uninstaller to remove the driver files and user settings from the registry
Improvements for the InstallShield and MSI Installers to overwrite old printer driver files on the system
Minor improvements in the user interface of the Installers
Stability improvement for "Generate output in memory" option
Improvement for "Start Application" with "Start After Printing"
Improvement for "Start Application" with "Start Before Printing" the option: Document Name, Group Filename and Output Filename parameters are available
Improved TIFF error handling
Improved printable area detection when printing PDF input files with Auto-print
Fixed "Timeout interval elapsed" error when printing certain PDF documents with Auto-print
Added option to BiAutoPrint.ini to disable PDF password protection checking in Auto-print
Improved printing PDF files with embedded JavaScript with Auto-print
Improved Black Ice Printer Driver detection in the Installation
Minor improvements on the user interface of the Installer
Added Abort message handling to Message Capture Samples
Removed Demo Image SDK registration dialog from installers
Updated manuals
Free Upgrades and Priority Support
Do not forget to subscribe to future releases by purchasing maintenance. With an active maintenance subscription, you will receive all new releases for free! Priority email technical support is also included in your subscription. For more information call us at +1 (603) 882-7711 Extension 2, or sales@blackice.com.

As a special offer, if your maintenance subscription has expired or you did not include the maintenance subscription in your original purchase, simply refer to this newsletter to renew or add maintenance retroactively!