Black Ice Software - January 5, 2017
BiBatchConverter version 4.32 is released!
New Upload to Web feature, Stability improvements for Text Output, Registration and more!
Black Ice Software has released the BiBatchConverter version 4.32. The latest version added new capabilities to upload documents to web servers using HTTP and HTTPS protocol. By using the new Upload to Web feature, users can send the converted documents to a specified web address with POST requests, which is the most common solution to upload documents to a website.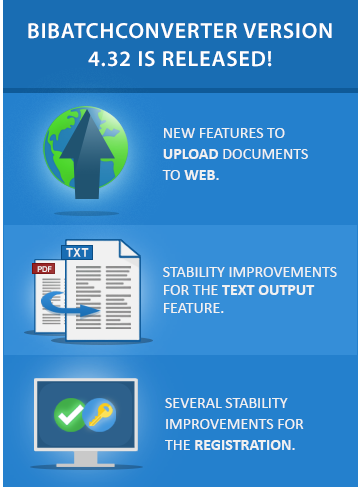 The latest BiBatchConverter comes with a stability improvement for the Text Output feature, where the Printer Driver was inserting an extra space character into the text output.
The latest BiBatchConverter also includes several stability improvements for the registration of the software along with updated documentation to enhance the user's experience.
The complete list of improvements in the latest BiBatchConverter include the following:
Updated InstallShield Projects to version 2013
Added Upload to Web feature
Updated Printer Driver to version 14.76.1619
Stability improvement for the Text Output (In some cases the Printer Driver inserted extra space characters into the text output)
Updated eLicense.dll to version 5.09.189
Stability improvement for registration on certain systems
Stability improvement for uninstallation after the registration number was entered instead of the serial number during manual registration
Stability improvement for handling connection problems
Updated Auto-print to version 14.76.368
Stability improvement for handling low memory conditions (fixes deadlock)
Updated manuals
Free Upgrades and Priority Support
Do not forget to subscribe to future releases by purchasing maintenance. With an active maintenance subscription, you will receive all new releases for free! Priority email technical support is also included in your subscription. For more information call us at +1 (561) 757-4107 Extension 2, or email us at sales@blackice.com.

As a special offer, if your maintenance subscription has expired or you did not include the maintenance subscription in your original purchase, simply refer to this newsletter to renew or add maintenance retroactively!