Configuring the Drivers for Users by System Administrators during installation

The administrator can change the default settings of the Black Ice Printer Driver(s) or Agent Printer(s) for every user during installation. Agent printers can be configured only after printer driver installation is completed.
The administrator can configure all the default settings of the Printer Driver at the last stage of the installation process, on the Configuration Manager window.
To change the default settings for all users during the installation, select Custom Config at the Configuration Manager window of the installation and click on Next button.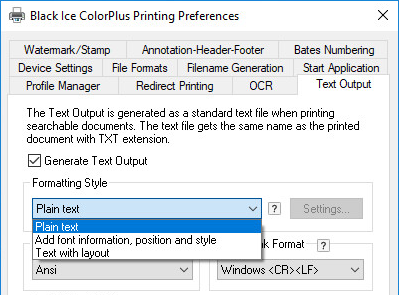 Click on the printer icon to open the Printing Preferences of the printer driver, and configure the default settings for every user.
After the configuration is finished, click Ok and finish the installation.
The following configuration options are stored in the registry and cannot be configured for the users in Printing Defaults:
·       Watermark first page options:  landscape filename/visibility/position, portrait filename/visibility/position
·       HTML, PDF and PDF/A options