Error Description:
During the Printer Driver registration, error code 55 occurs, saying that the specified license number is not valid for this product or missing.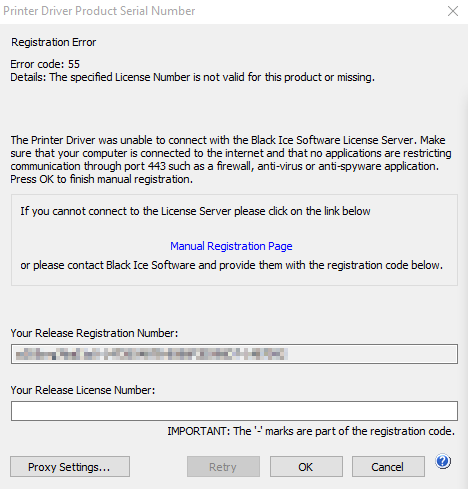 Solution:
The error code 55 means that the Printer Driver was unable to send the license number to the Black Ice eLicense Server, or the Proxy settings were not configured properly.
In order to activate the Printer Driver, you must have active internet connection and port 443 enabled on your computer, or you must configure a working Proxy server for the registration.
Alternatively, you can activate the Printer Driver manually through our website, using another computer which has active internet connection.
For more information on how to activate the Printer Driver manually, and how to configure a Proxy Server, please read the Printer Driver documentation: http://www.blackice.com/Help/Tools/PrinterDriverHelps/ColorPlus/Webhelp/index.htm#Failing_to_License_the_ColorPlus_Full_version.htm
Regards,
Technical Support Team