Description:
The Black Ice printer driver is configured for 200DPI but when I print from my application (eClinicalWork) the DPI changes. The Default printer is HP Laser 4000 PCL printer and I do not want to make the Black Ice printer driver to be the default printer. We are printing in interactive mode (manually.)
Cause of the problem:
When the document is opened, the document is using the default printer setting such as DPI. when the document is printed to the Black Ice printer driver, the DPI is over written in the Black Ice printer driver DEVMODE structure.
Solution:
Please make sure that you are an Administrator for the system.
Close the printing applications.
Select Control Panel. Right click Devices. Select the Black Ice ColorPlus printer driver.
Right click on the ColorPlus printer driver and select Printing Properties:
Select Preferences.
Select 200×200 DPI and check option "Force printer DPI." Please see screen capture.
Press OK.
Open eClinicalWork Application and check the printer driver Resolution. It should be 200×200 DPI and the "Force printer DPI" should be checked.
In the future, you can configure "Force printer DPI" this setting during installations so you can avoid manual configuration of "Force printer DPI".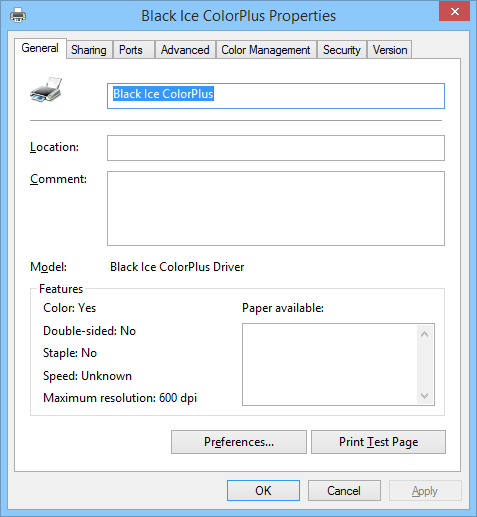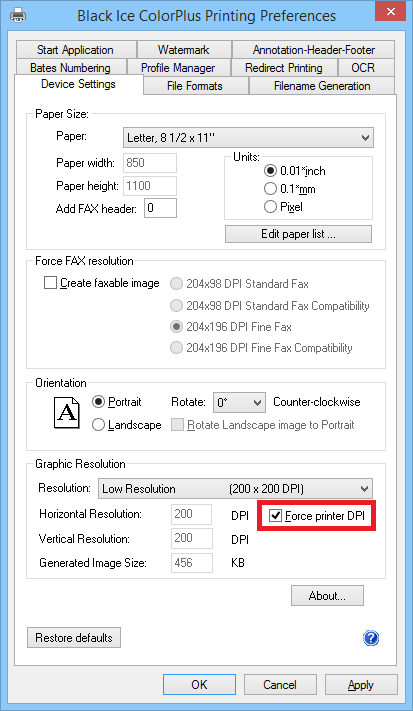 Regards,
Developer Support Team