The PaperPort 9 Uses an older 5.XX version of the Black Ice printer driver that can be replaced with the latest released of the Black Ice Printer Driver.
Install PaperPort 9 on our Windows 7. Since the original printer driver in PaperPort is not compatible with Windows 7 systems, please follow the steps below for replace the printer driver in PaperPort 9:
1. Download and Install the latest release of Black Ice Printer Driver for Windows desktop 8.1/7/Vista/XP operating systems from the website or use the already installed Black Ice Printer Driver on the computer.
NOTE: If the PDF Printer Driver Demo is expired, or to remove the Demo watermark from the printed documents, please purchase a license and register the Black Ice Printer Driver.
To print to the PaperPort "desktop", using the PDF, ColorPlus or TIFF/Monochrome Printer Driver please perform the following configuration steps:
1. Go to Control Panel > Devices and Printers > right click on the Black Ice Printer Driver > click on Printing preferences > Click on the
Start Application
tab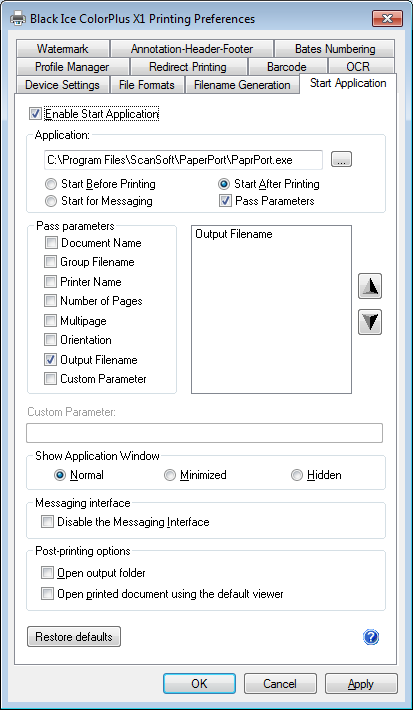 2. Check the
Enable Start Application
checkbox, and browse the
PaprPort.exe
file. By default, the file is located at C:\Program Files\ScanSoft\PaperPort\PaprPort.exe.
3. Uncheck all options under Pass parameters except the
Output Filename
, and uncheck the Open output folder option on the bottom of the window.
4. When finished, click on
Apply
button and go to the
Filename Generation
Tab: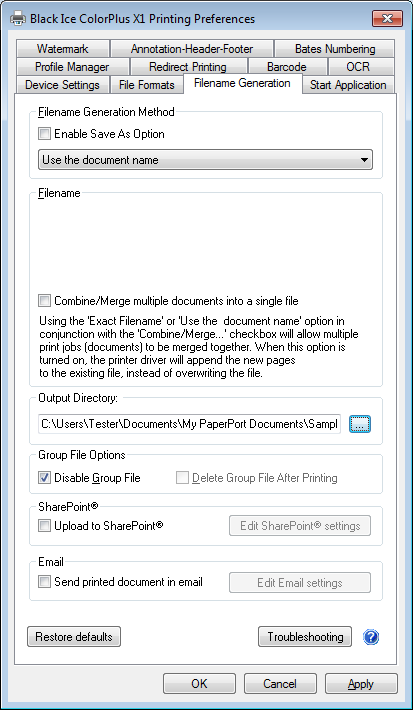 5. Set up the
Output Directory
to the preferred Paperport folder you would like to save the documents. Please make sure that there are no environment variable ( for example: <<USERNAME>> ) in the configured output directory.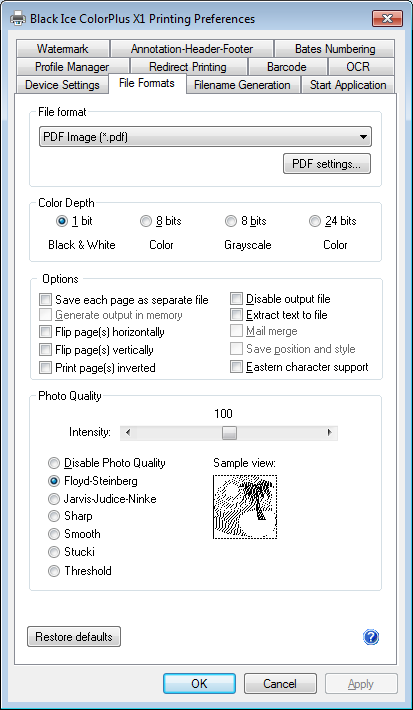 6. Set up the
File Format
of the printed document.
If printing to PDF, the file format must be PDF Image.
7. When finished, click on
Apply
and
OK
buttons.
8. From now on, when printing to the Black Ice printer driver, it will open the printed document in PaperPort "desktop" automatically as the integrated printer drivers did on Windows XP.