Email Add-On Sample C++
Description:
This Email Add-on Sample helps you to send printed images in emails easily.  After printing sample application will be launched and the user can input the recipients email address.  The Email Add-on Sample logs into a specified SMTP email server and send the converted document as an attachment. The sample using the default SMTP port, TCP port 25, and try to connect to the SMTP server without using SSL.
This sample can be compiled using both Visual Studio 6 and Visual Studio 2005 using the appropriate project files.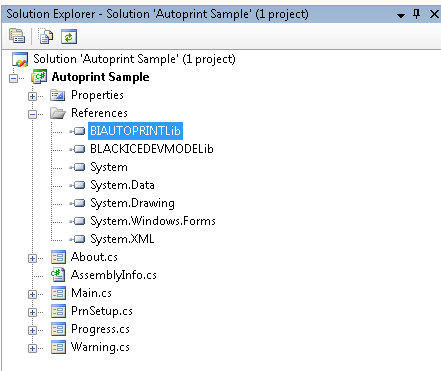 Email Configuration INI File:
The E-mail Add-on sample can read the email configuration from the INI file, If the name of the INI file is the same as the sample application, and also the INI file is in the same directory as the sample.
For example (Sample application name – INI filename):
BISEmailC#.exe - BISEmailC#.ini
BISEmailVC.exe - BISEmailVC.ini
The INI file structure with the email configuration should be the following:
 

[Settings]

SMTP Server=

[Email]

Recipients=

Subject=

From=

For example:

[Settings]

SMTP Server=mail.domain.com

[Email]

Recipients=email@domain.com

Subject=Test email with BISMailVC

From=email@senderdomain.com
The Sample sends the email after the data (SMTP Server, Recipients, Subject, From) is written into the INI file.
Trying the Sample:
Open the Black Ice printer driver's Printing Preferences window, on the Start Application tab, check Enable Start Application and choose BISEMAILVC.exe from the Sample Source Files folder. Select Start After Printing and check Pass Parameters. Leave the parameters in their default order and make sure the Disable Group File option is unchecked under Filename Generation tab.
Sample Source Code Folder Location:
<Installation Folder>\ Printer Driver Resource Toolkit\Sample Source Files\Sample Source Codes\C++\ BISEMAIL
| | |
| --- | --- |
| Project file: | Compiler: |
| BISEmail_Dotnet.sln | Visual Studio 2005 |
Note: Please make sure that you use the appropriate Resource ToolKit, there are four different RTK.
- RTK for 32bit for Windows 8, 7, Vista, XP
- RTK for 32bit for Windows Servers 2012/2008 R2/2008/2003/2000
- RTK for 64bit for Windows 8, 7, Vista, XP
- RTK for 64bit for Windows Servers 2012/2008 R2/2008/2003/2000